About Fairy Shimmerhair™ Extensions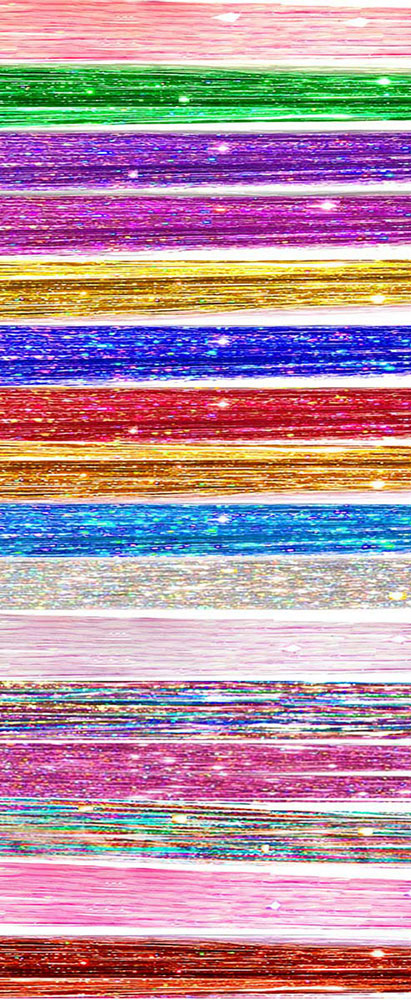 What is fairy hair?
If you've never tried fairy hair yourself, you've probably seen or heard of it. Here are some of our most frequently asked questions.
What are Fairy Shimmerhair™ Extensions?
Fairy Shimmerhair™ Extensions are delicate, silky, shimmering fairy hair strands that are individually hand-tied.
There is no glue, no beads, no heat – nothing that can damage your hair.
Since Shimmerhair™ is tied to a single strand of your hair they last until that strand of hair falls out naturally and they blend seamlessly. Wash and style just as you normally do with your natural hair. You can blow dry, curl, straighten, and get a color-treatment and haircut with them in them too! 
Who is fairy hair for?
Everyone who has at least 2 inches of hair! People of all ages love it. Some get it for a special event or party, others wear it constantly. Cheerleaders and college students love showing school spirit by getting their school colors done. At Halloween orange, green and purple are popular. During Mardi Gras, purple, green and gold. And of course, Christmas you can do any combination of red and green or silver and gold.
It can be VERY subtle – by choosing a color very close to your natural hair color that just sparkles in the light. Or you can go all out bling and do our Mean Girls Pink or Pure Sapphire. There is also the very popular Rainbow that the younger crowd loves.
What are they made of?
They are made of a high-quality fabric that mimics actual hair. Some companies call it Thai Silk but we had them tested at Florida State University and it is really a silky polyester that withstands heat up to 350 degrees. There is only one company that manufacturers the strands we choose to use because we wanted the one with the highest quality and largest shade selection.
Can I buy the fairy hair elsewhere and DIY?
There are some on Amazon that are a much lower quality (TINSEL) and usually only offer 12 shades. The issue is not only the product quality but the expertise of putting it in. Doing it on yourself is exceedingly difficult and if not put on the hair correctly, will fall out easily. Our trained Shimmerhair Specialists know the secret to perfect application so that the strands last longer.
How long is it expected to last?
Without a magic ball, we can't promise how long it will last – it is tied to ONE hair and when that one hair falls out naturally, so does the fairy hair. Some will last a few days, some might last for months! We always put in extra strands to make up for those that fell out quickly. Children's hair will fall out quicker as well.
FACTS:
At any given time, about 80-90% of your hair is growing and 10-15% is in a resting phase, where it doesn't grow or fall out. Every 2-3 months, the resting hairs shed, and new hairs grow in their place. So you could be losing between 150 and 200 hairs from your head per day.
The amount of hair on a person's head can vary by individual. The average human head has about 100,000 hairs with a similar number of hair follicles.
How much does it cost?
It is just $2 per fusion (which hangs down as 2 strands), we sell them in packages of 10, 20, 30 and so on. For every 10 you buy, you get to choose a color. Most people get 20 to 30 strands and 2 colors.
How do I prepare for my shimmer session?
Please arrive 5-10 minutes early to pick your perfect Shimmerhair color and to ensure we all run on schedule.
We lose 100-200 strands of hair a day, so it's important to arrive with clean hair that is thoroughly brushed of loose or weak strands and tangles, and with minimal styling products.
Do you have any special offers or loyalty club?
We have an automatic loyalty club – for every 100 strands you purchase (over time), you get a coupon for 10 strands FREE.
How do I track my loyalty points?
Loyalty points are linked to the phone number you used at the time of booking your appointment. You can track your points by clicking here!
Get all the Glitz & Glam
on our Instagram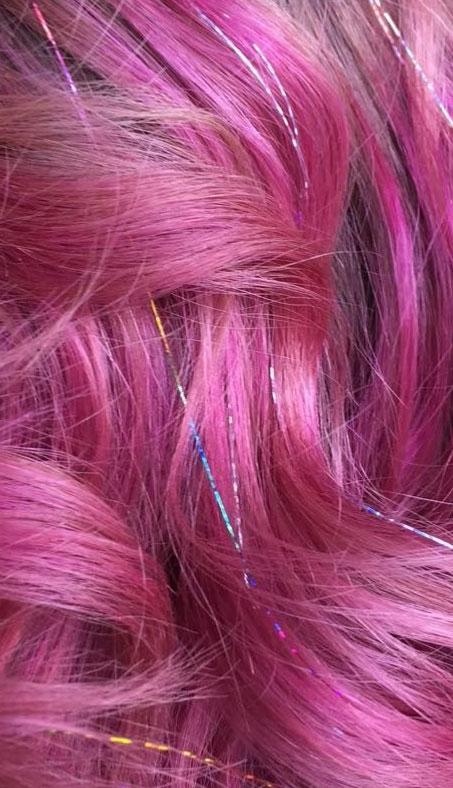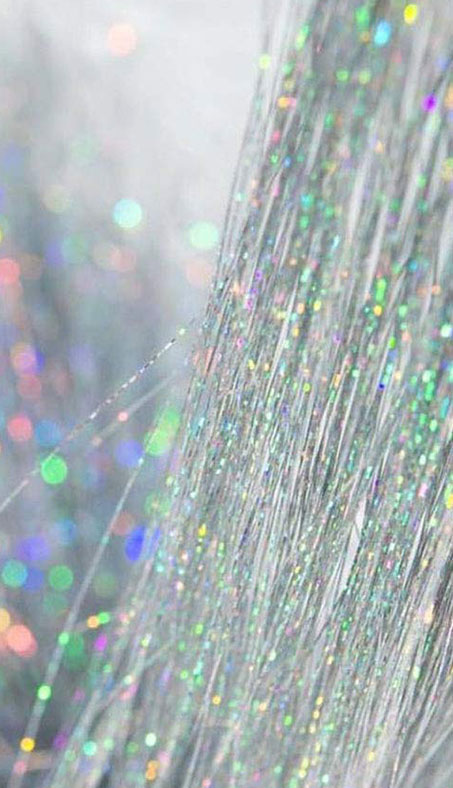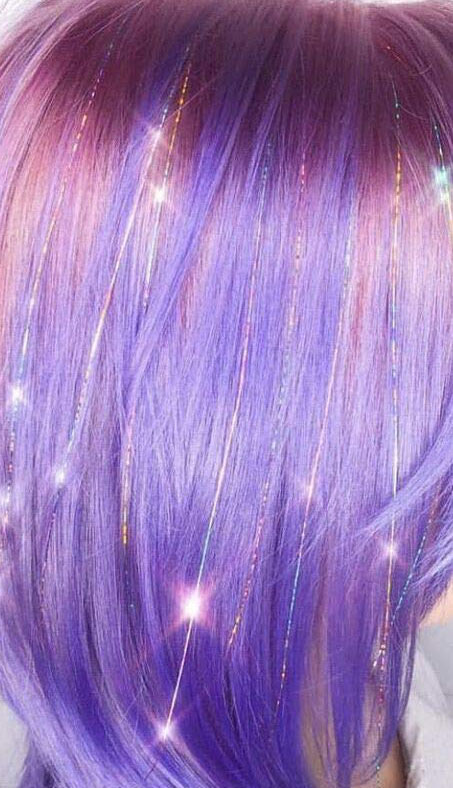 Get a celebrity-approved glam look with Fairy Shimmerhair Extensions!

We all remember how Beyoncé glistened at the 2010 Grammy Awards and in 2019 not only did Saoirse Ronan dazzle on the red carpet for the 2019 Govenors Award, but Kacey Musgraves rocked a tinsel ponytail during her 2019 tour with the help from hairstylist Giovanni Delgado.
Now you can get the fairy hair look with beautiful, delicate Shimmerhair™ strands that stand out. Don't miss out on this trendy statement style!